FRESH IMPRESSIONISM
An Exhibition of Altered Masterpieces

by Emmett Williams
April 8 to May 3, l997, Tues-Sat. noon - 6:00
Opening: Tuesday, April 8th, 6:00-8:00. (Emmett Williams will be there)
Emily Harvey Gallery is pleased to present an exhibition of new work by poet and Fluxus artist Emmett Williams which features the "little Fluxus people," painted in permutations of color, who have been one of his trademarks since the early Sixties. This time around the colorful intruders dance their dance on some of the masterworks of l9th and 20th Century art.
They have danced all over the world--on prints in Japan and Korea, on sand paintings in Israel, on wooden wheels incised by craftsmen in Africa, on wine labels in Hungary, at the Central House of Artists in Moscow, as grappa bottles and stand-up figures in Italy--not to mention 12 stained-glass windows in Verona awaiting the erection of a Fluxus cathedral.
And now they will dance at the Emily Harvey Gallery in Emmett Williams's first one person show in New York City, populating some of their favorite paintings by the Impressionists and other artists from the Old Country.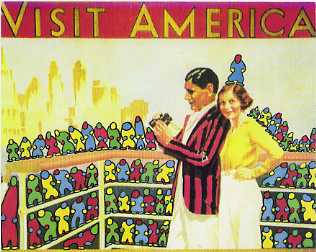 The Little Fluxus People Invade New York (1997)
Emmett Williams.
Emmett Williams, born in South Carolina in l925, has lived most of his productive life as poet, painter and performer in Europe. Following his discharge from the U.S. Army in l946, Williams worked his way to Poland and Greece on cattleboats. After his graduation from Kenyon College in l949, he went to Paris for his honeymoon and remained in Europe for the next 17 years. His friendship and collaboration with Daniel Spoerri, Dieter Roth, Robert Filliou, and other European artists began in the 50s. He was on hand in l962 when George Maciunas organized the historic Fluxus international festival in Wiesbaden, and has been a Fluxus activist ever since.

Williams returned to the United States for a decade in l966 to become editor-in-chief of Dick Higgins' Something Else Press in New York during its heyday. In l976 he toured Japan with his close friend and Fluxus colleague, Ay-O, and returned to Tokyo a decade later as artist-in-residence at the Machida-shi Museum of Graphic Art, living with a Soto Zen master and his family at Ryodenji Temple. He was artist-in-residence and research fellow at the Carpenter Center for the Visual Arts at Harvard University from l977 until he returned to Europe in l980.

Williams lives in Berlin, performs and exhibits widely throughout Europe, and is president of the international Artists' Museum in Lodz, Poland. In l997 the prestigious Berlinische Galerie awarded him the first Hannah Hoch Prize for a "lifetime of achievement in the arts," and with a retrospective exhibition at the Gropius Bau in Berlin.

Williams's many pioneering books include the erotic poem cycle "sweethearts" (1966), hailed by Richard Hamilton as "the first large-scale masterpiece among the concrete texts." Marcel Duchamp, a sweethearts fan, authorized a reproduction of his "Coeurs Volants" for the front cover of the American edition of the book.

His "Anthology of Concrete Poetry" (l967) after three decades is still considered one of the best guides to the innovations and experiments in visual and concrete poetry. And John Updike wrote of the "pleasure and wonderment" that Williams's "Selected Shorter Poems" (l974) gave him.

Williams's autobiographical "My Life in Flux--and Vice Versa" was published in l992 by Thames and Hudson, who will also bring out "Mr. Fluxus," a collective portrait of George Maciunas edited by Williams and his wife, the English artist Ann Noel, in September. (A much praised German edition appeared last year). Japanese editions of both works are in preparation.

On April 26th, Williams will receive an honorary doctorate from the Nova Scotia College of Art and Design in Halifax.

Press Release: March 30, 1997
---
Emily Harvey
S. Polo, 322
30125 Venice, Italy
Tel. & Fax 39 41 523 5147
Email: Harvey@doge.it